Kerato- and Refractometer
The Topcon KR-1 is a modern, automated and easy-to use keratometer-refractometer controlled by a color touch screen with Topcon's Rotary Prism technology.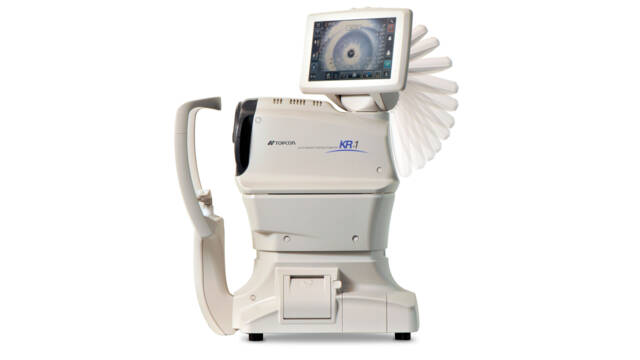 Key features
Fully automated operation with rotatable touchscreen
Flexible & space saving layout
Reliable & fast measurements
The device automatically obtains objective refraction data of the right and left eye. The KR-1 automatically detects abnormal conditions of the eye, i.e. cataract. The instrument changes automatically to "cataract mode" and continues the measurement. If required, the KR-1 can be set in manual mode as well. The manual mode can be used for focusing and acquisition. The up/down and left/right movement will remain automated.
Reliable & fast measurement
With Topcon's exclusive Rotary Prism TechnologyTM, the KR-1 provides unmatched accuracy and reliability. This technology ensures reproducible results. The objective measurement of both eyes is done in a fast and comfortable way for the patient. This auto kerato- refractometer can even measure patients with a pupil diameter as small as 2.0 mm
Flexible & space saving layout
The adjustable touchscreen control panel enables the operator to be positioned anywhere around the patient, because the control panel can be faced in a number of different directions. The KR-1 can be positioned in a
conventional set-up against a wall or even in a corner of a room. The compact body enables the operator to support the patient easily from many different positions during an eye measurement even when the patient's
eye lid needs to be opened. These unique aspects will contribute to space saving and flexible layout in an examination room.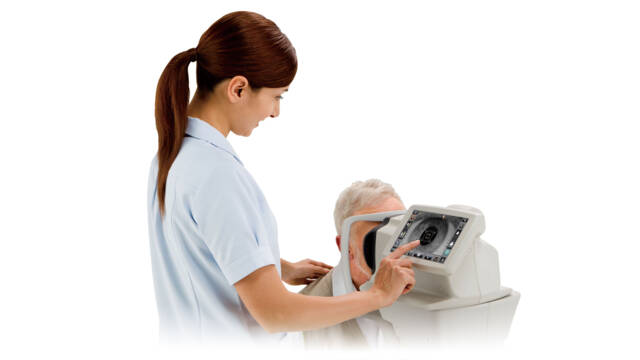 Rotary Prism Technology
With Rotary Prism Technology, the Topcon TRK-2P provides stable measurement. The unique eccentric rotation of the measurement ring is designed to decrease any artifact from the
fundus.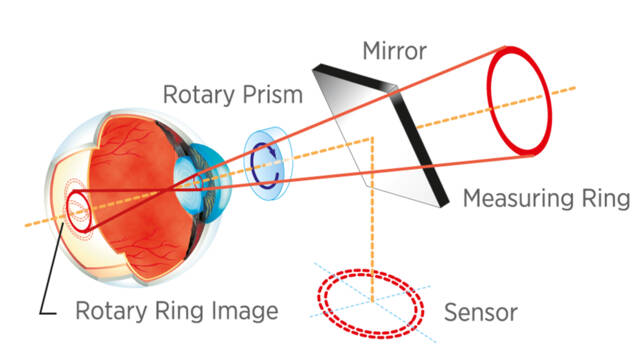 Pheripheral KRT
The Topcon KR-1 allows the operator to take peripheral KRT measurements of the corneal curvature radius, in addition to inner KRT ring measurements, which is useful in corneal evaluation of contact lens fitting.

Compact ergonomic design
The ergonomic design provides a more comfortable position for the patient with a 5° inclination of the patient's head and optical head of the KR-1. The compact body of the Topcon KR-1 and improved chin rest design enables easier access to patients. The operator will have better interaction with the patient.
Not all products, services or offers are approved or offered in every market, and products vary from one country to another. Contact your local distributor for country-specific information.