Instrument Column
The IC-1 is an innovative concept and an efficient solution for presenting instruments in your consulting room.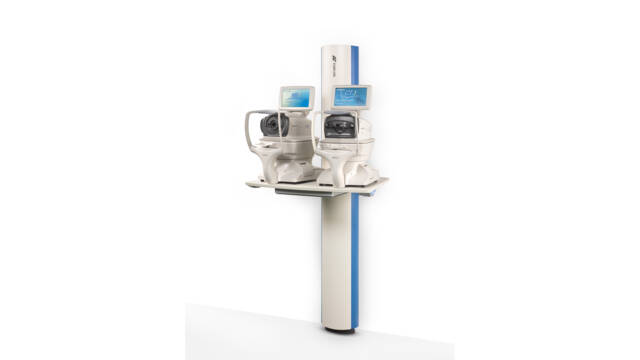 Key features
Table top for one & two instruments available
Simply & easy operation of the table top
Easy wheelchair accessibility
This IC-1 instrument column is wall mounted, resulting in a very small footprint, saving you valuable floorspace and making it easy access for cleaning the floor. The IC-1 is available in two colors and can be set-up for one or even two instruments. The adjustable elevation of the table top allows for seated or standing operation of your instruments. With the additional option of a monitor and keyboard support, this IC-1 instrument column will turn into a complete flexible workstation, which is also easily accessible for wheelchair patients. The IC-1 in combination with Topcon's Auto-Refractometer KR-1 or KR-800, along with Topcon's Tono-Pachymeter CT-1P, is the perfect solution to provide complete refractive eye care on a single square meter.
Not all products, services or offers are approved or offered in every market, and products vary from one country to another. Contact your local distributor for country-specific information.