Instrument Stand
The IS-100 Instrument Stand combines comfort, functionality and design in a compact unit. .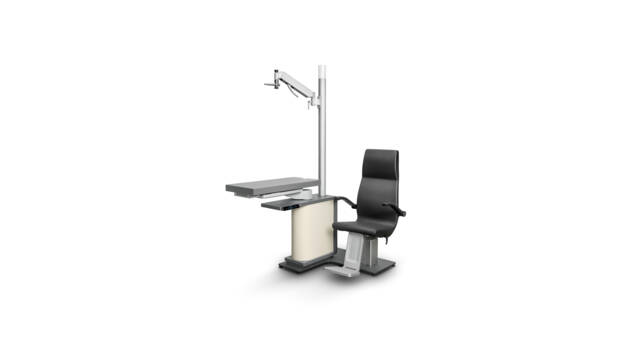 Key features
Small footprint
Capacitive control panel
Large chair elevation stroke with smooth and silent movement
Scratch resistant and easy to clean table top
Topcon IS-100 has a modern design and allows two instruments on a swivel type tabletop. Its simplicity and basic functionality for an affordable price level makes the IS-100 Instrument Stand the perfect solution for the optician and optometry market.

​The innovative IS-100 is available in a right and left setup. The tabletop surface is scratch resistant, fingerprint proof and easy to clean. The elevation movement of the chair provides a long stroke for easy access and is very smooth and silent.
The IS-100 accommodates all types of slit lamps and it provides clean cable management. Two ergonomic types of chairs are available to use with this Instrument Stand: one basic version with arm and footrests (OC-8)
and a full reclinable version with footrest (OC-9). The ophthalmic chair OC-8 and OC-9 is available with a large chair elevation stroke to provide easier access.

Not all products, services or offers are approved or offered in every market, and products vary from one country to another. Contact your local distributor for country-specific information.
Request information about this product