Subjective Kerato-Refractometer
The KR-800S features not only objective auto refraction and keratometry, but it also performs subjective far and near testing as well as four function tests.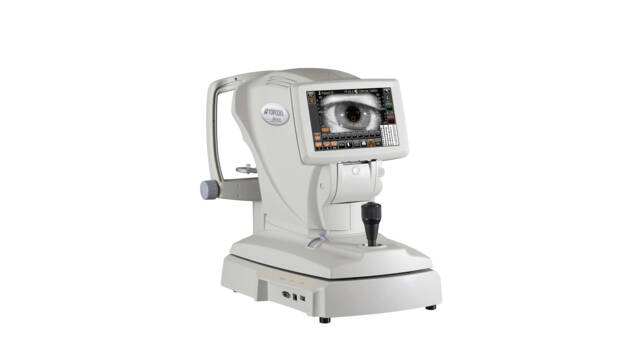 Key features
Objective & subjective measurement
Visual Acuity test with subjective power in glare condition
Visual Acuity test with subjective power in various contrast levels
Pre- & post-cataract surgery VA assessment
These 6-in-1 functions assure quick and accurate results and enhance your test workflow.
The test results of all objective and subjective measurements are shown on the monitor and can easily be printed through the drop-in printer in front of the instrument. It is very easy to test objective measured results subjectively. The accurate objective results can be spherical edited until the highest visual acuity (VA) is achieved. Additional reading power can be measured on various distances between 33 cm and 60 cm.
If a computerized lens meter is connected, the instrument can also test and show the patient's VA result with their current eyeglasses. Since it is easy to compare VA with the patient's current eyeglasses result or even with unaided situation, new eye glasses can be advised if necessary.
The glare, grid and contrast test availability in combination with VA measurement make the KR-800S a versatile instrument that is an asset not only for opticians but also for ophthalmologists with pre-cataract, post-cataract or refractive surgery.
KR-800S can provide pre- & post-cataract surgery visual acuity information in order to review the cataract surgery outcome. The KR-800S is able to simulate the use of premium IOL's such as Toric IOL or Multifocal IOL's. The patient can experience the influence of premium IOL's on their visual acuity. This makes the KR-800S a perfect instrument in addition to Topcon's biometer ALADDIN.
Not all products, services or offers are approved or offered in every market, and products vary from one country to another. Contact your local distributor for country-specific information.