LCD Chart
The Topcon LED LCD chart system contains all important visual acuity, binocular, color vision and contrast sensitivity tests.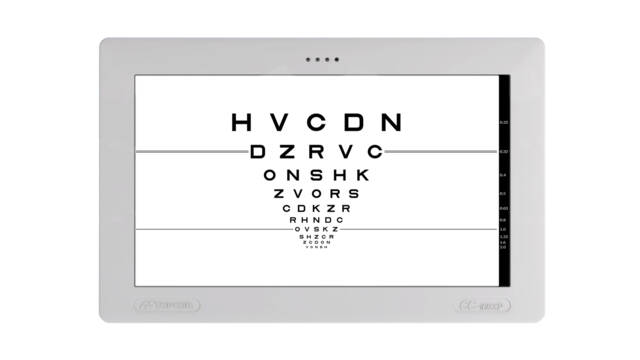 Key features
100% polarisation
Spatial Frequency contrast sensitivity test
White Maddox LED light source
MKH test sequence according to Haase
Spatial frequency contrast sensitivity test
A unique feature is the availability of the spatial frequency contrast sensitivity test which provides quantitative and qualitative information about the patient's contrast visual acuity.
Circular polarisation
Image separation for binocular testing is created through a specific polarisation technique which is unique to LCD test charts. This unique polarisation technique provides 100% image separation, without any "ghost images". Circular polarisation provides equal background color for both eyes.
The CC-100XP is a 22 inch LCD screen with high resolution, high contrast and high brightness. CC-100XP can be operated by the Topcon CV-5000 automated phoropter, by a remote controller, or by a wireless CV-5000 Tablet solution
Not all products, services or offers are approved or offered in every market, and products vary from one country to another. Contact your local distributor for country-specific information.