Vision Tester
Topcon's CV-5000PRO automatic phoropter sets quality standards.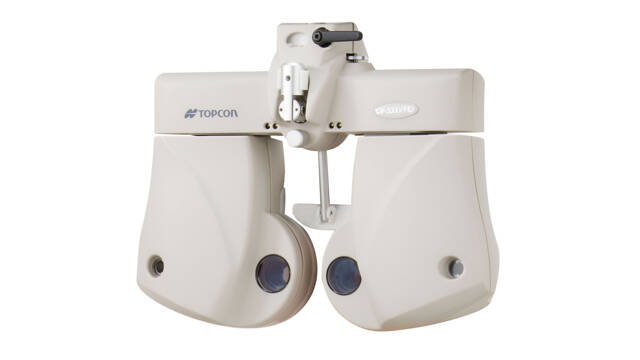 Key features
Fast lens rotation
Versatile operation
Near chart LED illumination
Compact design keeping interaction with the patient
Fast lens rotation
Lenses with high anti-reflex coating
Near chart LED illumination
One dial operation with KB-50S
Fully programmable display layout
Programmable refraction course sequences
Optional wireless tablet operation
Fast lens rotation provides comfort for user and patient. The compact and contemporary design enhances the professional image of the practitioner. Due to the compact design the refractionist can monitor the patient's expression during refraction. To perform the near tests, the near chart illumination is incorporated into the CV-5000PRO.
The CV-5000PRO automated phoropter can be controlled by a tablet, by the Topcon KB-50S controller or by PC software operation.
PC software operation
The CV-5000PRO can also be operated through a PC. A unique operating system allows the operator to use his own PC hardware. The layout of the user interface ensures a good overview of the refraction data.
 
Monitor & mouse
Monitor and mouse can be connected to the internal PC of the CV-5000PRO system. This entry level set-up is also one of the three options to choose from for controlling the CV-5000PRO phoropter.
KB-50S
Through the use of the KB-50S control panel the operator can control all functions of the CV-5000PRO automated phoropter. TheTopcon KB-50S is equipped with a large color LCD touchscreen, providing the best overview on refraction results in the market. The KB-50S contains a sales support function. The practitioner is able to show his patient the benefits of various spectacles such as multifocal glasses. The KB-50S shows explanation of presbyopia, myopia and hyperopia to the patient.

Not all products, services or offers are approved or offered in every market, and products vary from one country to another. Contact your local distributor for country-specific information.